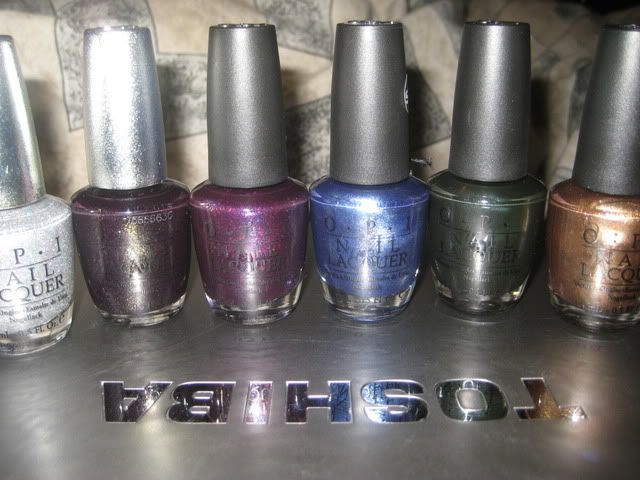 l to r: ds coronation, ds mystery, merry midnight, russian navy - suede, here today... aragon tomorrow, shim-merry chic; all opi
last friday, during one of my shopping excursions at the mall, i walked by a hair salon. one thing caught my eye: "two for $15 CAD, all opi". next thing i knew it, i spent nearly one hour at the hair salon juggling 12 different shades, trying to narrow it down to six. it is no secret among my friends that i am a nail polish junkie. i am hardly without my varnish on my nails. i hardly wear 'appropriate' colours on my hands, that is because i don't have to - still being in school has its perks. if anything i think i am most drawn towards unconventional hues of green, purple and holographic glitters. you can tell i've been craving some darker shades.
currently, i have russian navy - suede on my tips , which is gorgeous. the colour is nothing like the original formula, this is reminiscent of new denim, in both colour and texture. the matte finish gives the polish no glossiness whatsoever, but the shimmers in the polish really give this colour some dimension. this also looks amazing with a top coat on. like dazzl' amazin'.